Trinity Walk Revitalization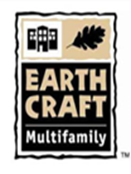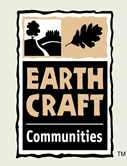 Gateway Manor was a Section 8 Substantial Rehabilitation Project of 112 units on two separate sites located approximately a mile apart in Decatur, Georgia. Gateway Manor (circa 1969) was 88 units total with 87 subsidized units and one conventional rental on 5.84 acres. Oakview Apartments (circa 1961) were 24 subsidized units on .81 acres. The current apartments were physically and functionally obsolete. DHA continued to invest heavily in required unit repairs just to keep up the property to decent standards. A Housing Assistance Payment (HAP) Contract with HUD allowed the rents to remain affordable as families paid thirty percent of their adjusted gross income towards rent and utilities.
Even with the limitations of the obsolete housing, the communities remained fully occupied because of the excellent location. The City of Decatur is an exceptional award-winning city with a focus on a vibrant downtown and walkability. Residents of Gateway had immediate access to a MARTA rail station and bus transit, proximity to shopping, and nearby employment opportunities. The City Schools of Decatur are also the highest ranked in the Atlanta metropolitan area with the highest graduation rate and SAT scores.
Recognizing the quality of the Decatur community and the abundant opportunities available here, DHA and the City of Decatur sought to maintain economic diversity within the city by preserving the affordable housing stock in Decatur. DHA worked with the residents in a series of public meetings to form a revitalization strategy to address the site conditions. A newly-constructed campus on the 5.84 acre site would enable the families under the HAP contract with HUD to live in the new Trinity Walk community at affordable rental rates.
This approach minimized relocation as none of the 23 elderly/disabled residents that occupied the 24 units of Oakview needed to be temporarily relocated during the redevelopment process. After the new construction was completed, families from Oakview would also be able to move directly into a new unit on the revitalized Gateway site. Development in three phases would enable some families to remain on the Gateway site during the revitalization process. Trinity Walk would be constructed as a sustainable community built to the Earthcraft Multifamily and Earthcraft Communities standards.
Trinity Walk Phase I consisting of 69 units was completed in 2016. Trinity Walk Phase II was completed in the summer of 2017. It consists of 52 units bringing the total number of units at the 5.8 acre site to 121 units in 2017. As a part of the revitalization effort, HUD has agreed to extend the term of the HAP contract to 20 years for the 111 subsidized units.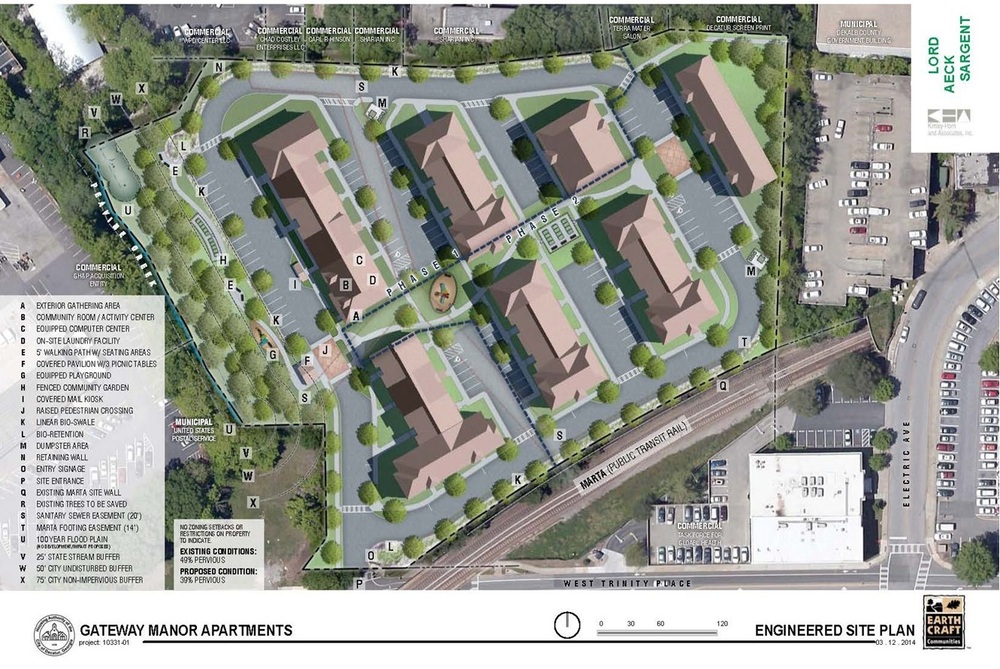 MASTER PLAN DESIGN PRINCIPLES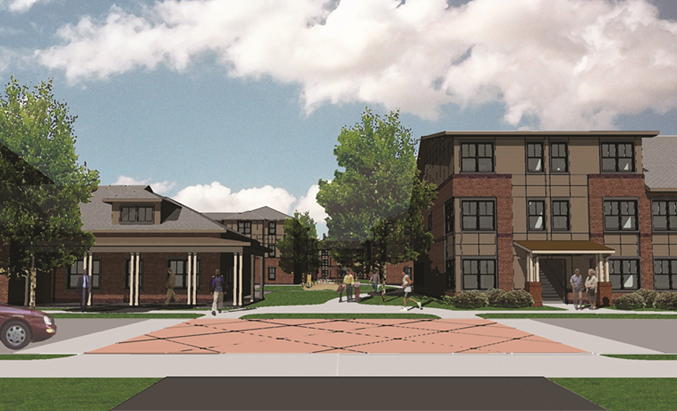 Circulation - A loop road provides connectivity within the site and enables future linkages to other city streets. Paths provide a 1/3 mile of walking trails that link the housing into a cohesive community. Essential street crossings include raised walkway tables for pedestrian greater safety.
Stormwater Treatment - Bio-swales will be placed on the northern and southern boundaries of the site address site stormwater runoff from non-permeable surfaces. A rainwater harvesting system will be used to minimize runoff and to capture rainwater water from roofs for irrigation of the landscape.
Greenspace - A robust vegetated stream buffer has been designed to provide a Greenspace that protects Peavine Creek and provides amenities for use by the residents. A children's playground, community gathering area, and raised garden beds will line the pleasant pervious walking trails in the Greenspace.
Greenway - The central Greenway will allow residents the ability to traverse the site without interacting with automobiles at most street crossings. The central Greenway is programmed space with community gardens, seating and gathering areas, and a tot lot. The tree-lined curvilinear path will draw residents from their homes and encourage healthy outdoor activities including walking, gardening, and playing.
Community Resource Center - A community resource center with integrated management/maintenance space is centrally located on the Greenway to ensure easy access, visibility, and an active presence in the neighborhood. An equipped computer room, large resident recreational area, classrooms for resident services, a fully equipped kitchen, and laundry facilities will assure a vibrant space.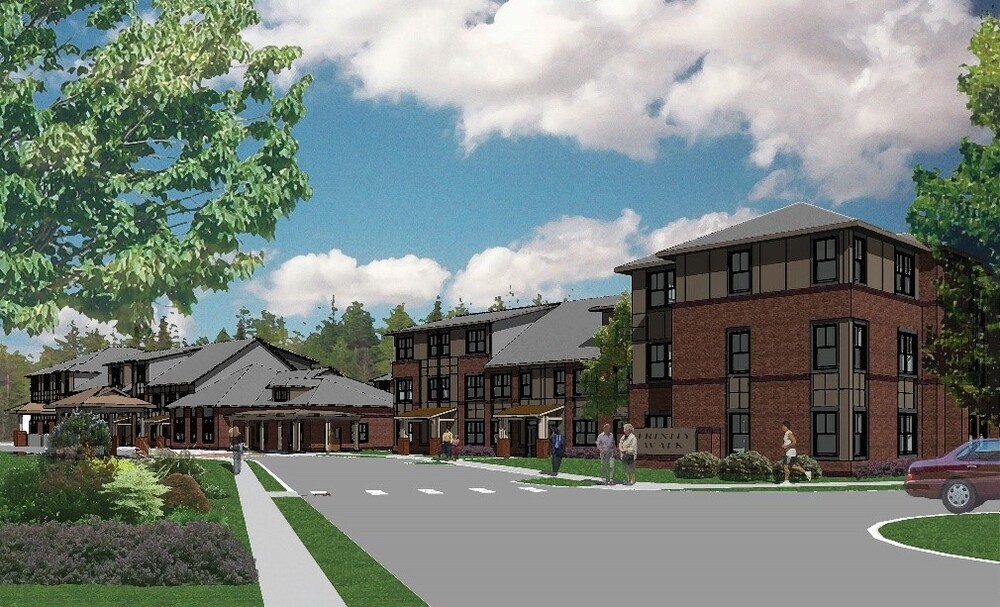 Homes - The apartments are housed in six distinct contemporary three story buildings. All ground-floor units are visitable with no-step entrances and adaptable to handicap needs. There are 32 apartments for elderly and disabled families and 89 apartments for families. All the units for elderly and disabled families are located on the ground floor.
RELOCATION
DHA understood that the redevelopment of Gateway Manor and Oakview Apartments needed to be implemented in a manner to minimize disruption and relocation of current residents. During the construction, the current residents were accommodated in other DHA apartments, provided with HUD-funded Pass-Through housing assistance in private rental housing (similar to Housing Choice Vouchers), or provided DHA-controlled Housing Choice Vouchers under a carefully monitored relocation plan.
OAKVIEW WALK
With the completion of the two phases of development at Trinity Walk, DHA turned its attention to the site of the former 24 Oakview apartments. The units had been demolished after the elderly and disabled families moved into the new Trinity Walk community. DHA worked with the Oakhurst Neighborhood Association in the design of a new building that met urban design principles for this important location. The building Having been completed in June of 2019, Oakview Walk now provides 34 new homes for families in Decatur. There are 27 units as affordable housing (40% to 60% AMI) and 7 units as workforce housing (60% to 120% AMI).
With the nine new homes at Trinity Walk I & II and the completion of 34 new homes at Oakview Walk, DHA has added 43 homes to its affordable housing stock. Since 2014, this is a 9% increase in housing stock (475 up to 518 homes) while completing the complete revitalization of Allen Wilson and Trinity Walk communities comprised of 346 homes for a total investment of $55.7 million dollars.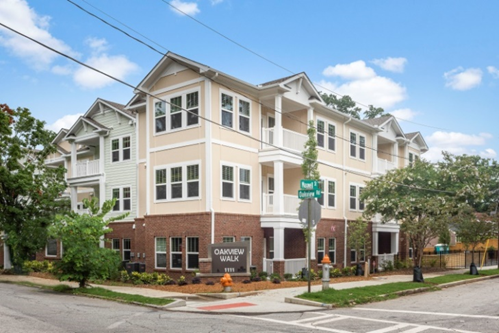 Watch the video with Home Diagnosis TV and SK Collaborative that worked on Oakview walk Discuss Low income housing