12/23/2021
DHA Recognized for 'Visionary Transformation' of Affordable Housing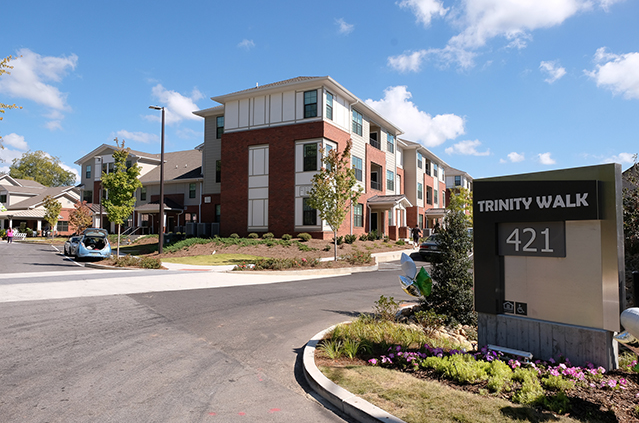 By: Kathy Mitchell
Decatur Housing Authority CEO/Executive Director Douglas Faust said that while he and his team are elated to have been honored by the National Association of Housing and Redevelopment Officials (NAHRO) and Atlanta Regional Commission, it's "extremely gratifying" that the rebirth of Trinity Walk and Oakview Walk—the basis of the awards—" has made possible better quality affordable and workforce housing in the city of Decatur."
DHA was recently honored nationally and regionally for its "visionary transformation" of the former Gateway Manor and Oakview Apartments in Decatur into Trinity Walk and Oakview Walk. At Trinity Walk I & II on West Trinity Place 121 units were renovated and Trinity Walk III on Oakview Road was razed and rebuilt as 34 units renamed Oakview Walk Apartments.
The project involved the revitalization over five years of two apartment communities in three phases. The new construction replaced outdated 50-year-old buildings with energy-efficient one-, two- and three-bedroom apartments, and added onsite amenities such as children's playgrounds, outdoor gathering spaces, raised garden beds, and walking trails. A centrally located community resource center features a fully equipped computer room, recreational area, kitchen, classrooms, and laundry facilities.
Trinity Walk and Oakview Walk were recognized with an Award of Excellence from the Southeast Regional Council of NAHRO, an Award of Merit from NAHRO, and a Regional Excellence Honorable Mention from Atlanta Regional Commission.
The three-phase redevelopment of Trinity Walk I and II and Oakview Walk represents nearly $30 million in revitalization in Decatur.
"The families who live there are able to have beautiful, updated homes at no increase in their housing costs," Faust commented.
The city has sought to provide quality affordable housing since the Allen Wilson homes were built in the 1940s, according to Faust, who added, "Now it's great to have been able to replace or upgrade housing built in the 1960s with units that include many amenities that the old ones didn't have. The challenge was limited land, but thanks to support from the city of Decatur and innovative partnerships with community organizations the project was successful."
Faust explained that since the new apartments were built on an occupied site, a strategic, phased program of temporary housing had to be implemented, with as little disruption as possible for residents. "Crucial to the plan's success was the partnership with City Schools of Decatur, which allowed students to remain in the public schools, even if they were temporarily relocated outside the school district," he said.
Other community partners that worked to foster healthy lifestyle choices and educational opportunities, he said, include Decatur's Wylde Center and the University of Georgia Extension Service, which offers onsite gardening, cooking, and nutrition programs; DeKalb Mental Health, which provides free regular health screenings to residents; The Opportunity Partnership, created by Decatur Education Foundation, through which local residents and businesses conduct a mentoring program for low-income students; and the STARS Afterschool Program, which provides tutoring, homework assistance, reading, computer skills, enrichment classes, and other services.
Calling affordable, achievable, and accessible housing "the foundation that supports a stable and positive life," Faust said he is thankful this belief is shared by the city of Decatur leadership and many community partners. "With stability, families can pursue healthy habits, greater educational opportunities, and quality employment. The Decatur Housing Authority exists to provide excellent affordable housing and to form positive, supportive, and healthy communities. We are proud of these new homes, as they are the capstone of five years of hard work in planning, financing, resident relocation, construction, development, and property management."
In an announcement of the awards, Decatur Mayor Patti Garrett commented, "We are proud of our long partnership with the Decatur Housing Authority. DHA is a leader in building affordable and attainable housing that fosters community and that people are proud to call home."
Read the original article here.
Read more about awards for Trinity Walk here.